Start Here.... Scout Mindset vs. Soldier Mindset
It is often taught in Bible colleges and seminaries that the way the "New Testament" writers did Biblical interpretation is "off limits" to modern exegetes, that it is a method that was reserved for the Apostolic class. Normative Judaism would disagree, seeing the methods employed by the Gospel-writers, Yochanan (John), Kefa (Peter), Sha'ul (Paul), and Ya'aqov (James) as being those commonly employed by all First-Century Jewish exegetes of the Torah, Writings, and Prophets. These methods are reflected not only in the B'rit Chadasha (New Testament), but also in the rabbinical writings. These are the methods explored in this 12-module course.
Please watch the video below as an introduction to how we can be misled by our presuppositions.
Credit: Galef, Julia. "Why You Think You're Right - Even if You're Wrong." TED Talks. Feb 2016. (11:37).
The challenge is to learn to set aside our presuppositions and let the text speak its own agenda, rather than allowing our presuppositions to bend it to our agenda (which happens often subconsciously). What this course endeavors to do is equip the student with ancient and proven processes for approaching the sacred canonical text of the Bible, and (hopefully) to aid the student in learning to set aside presuppositions that can hinder him or her from arriving at the authorial/Authorial intent behind the text.
Required Textbooks

The textbooks used to facilitate these aims are:
A formal-equivalent translation of the Bible in your primary language or in the original languages.
Zetterholm, Karin Hedner. Jewish Interpretation of the Bible: Ancient and Contemporary. Minneapolis, Minn.: Fortress Press, 2012. ISBN 978-0-8006-9798-3.
Strack, Hermann L. & Günter Stemberger (translated and edited by Markus Bockmuehl). Introduction to the Talmud and Midrash. 2nd Edition; Minneapolis, Minn.: Fortress Press, 1996 (orig. 1982 as Einleitung in Talmud und Midrasch). ISBN 978-0-8006-2524-5.
The Biblical text will always be the primary text, but as we are learning how to properly engage it, we will be interacting heavily with the Zetterholm volume listed above, in full, and also incorporating portions of the Strack & Stemberger text. The title of the latter should not lead the student to the conclusion that Talmud and Midrash are considered by MJR to be on the level of Scripture. As we are studying Jewish approaches to hermeneutics, we find these illustrated in several works, including the B'rit Chadashah, but also in the Jewish interpretations of Scripture preserved in the Oral Torah (Talmud). Some portions of this work will be addressed in this course, and others will be reserved for the HRY series on Talmudic Studies.
If you have not yet obtained these textbooks, please do so before beginning this course. The links below will take you to amazon.
NOTA BENE: The Strack & Stemberger volume will serve the student in multiple MJR courses, including Talmudic Studies I & II.
Graded Assignments
Homework posts (10 @ 25 pts. each) 250 pts
Quizzes (5 @ 50 pts each) 250 pts
Midpoint Assessment 250 pts
Capstone Project 250 pts
Grading Scale
A 937-1000
A- 900-936
B+ 867-899
B 837-866

B- 800-836

C+ 767-799

C 737-766

C- 700-736

D+ 667-699

D 637-666

D- 600-636

F below 600

---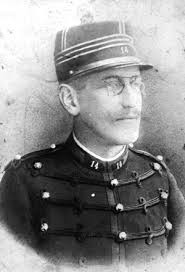 Corrigendum et Addendum: While the content of the video is worthwhile and very well articulated, we have one minor correction to offer. The "Albert" Dreyfus orally referenced at 2:13 in the video presentation should be (as correctly captioned in the video) Capt. Alfred Dreyfus (9 October 1859 – 12 July 1935), pictured here at right in his French artillery uniform.
The History Channel gives this account: "In December 1894, French officer Alfred Dreyfus was convicted of treason by a military court-martial and sentenced to life in prison for his alleged crime of passing military secrets to the Germans. The Jewish artillery captain, convicted on flimsy evidence in a highly irregular trial, began his life sentence on the notorious Devil's Island Prison in French Guyana four months later." (http://www.history.com/topics/alfred-dreyfus, 2009)
A fuller account of the case can be engaged on the Jewish Virtual Library website: http://www.jewishvirtuallibrary.org/jsource/anti-semitism/Dreyfus.html.
Complete and Continue